6 practical tips to increase your guests' satisfaction
Satisfied guests are an elementary part of an (economic) concept of success. The increase in satisfaction is therefore of great importance. We have put together 6 simple tips below to increase guest satisfaction.
Tip 1: Listen to your guests.
When having a conversation with your guests, listen carefully. This starts with a phone call. Every detail can be important for subsequent interactions (for example, remembering names). You make your guest feel important. If you pick up some information later, your guest will feel flattered and you will automatically stay positive in your memory.
Tip 2: Don't keep your guest waiting too long.
Whether it's on the phone or directly on site. If a guest is kept waiting for a long time, you strain their patience. The reverse effect is that guests enjoy a quick way of working and quick solutions. Whether it's over the phone or services you're present at, you and your team are always easily accessible and you act efficiently.
Tip 3: Surprise your guests with small gestures.
During or after the guests experience, it is worth paying a bit of attention, whether in the form of a small chocolate, praline etc. Such moments of surprise are also often shared with family and friends later on, so you can give your brand a good name, attract new guests and, ideally, turn them into regulars.
Tip 4: Transparent communications.
Clear and transparent communication is the core of success between you and your guests. Avoid nasty surprises, especially on bills. This is how you annoy your guests very quickly. Bad experiences are often shared, especially in a personal environment, to warn friends and family members against using the service. A bad review, whether it's on your website, on social platforms or review portals, is quick to write. This will damage the reputation of your restaurant and scare away potential guests in the future.
Tip 5: Kindness.
A smile can change the world and delight your guest. Always be kind to them and always treat every situation with respect. Even if you disagree with a guest's opinion or action, this goes with the territory.
Tip 6: Ask your guests for their opinions.
After guests have used your service, ask about their experience. Positive and negative feedback will get you far in your business. This can form the basis of further steps to be actioned, which will improve the experience your guests have. With the software solution opiniooon you can easily and conveniently survey your guests on site. To do this something like an opiniooon terminal with an integrated tablet can be placed at the exit from the restaurant. Guests can submit their feedback after they visit. This data is then visible in real time in the evaluation dashboard and can be used to identify potential improvements. Improvement action points can be derived from this in a timely manner, which means that the satisfaction of your guests can be increased.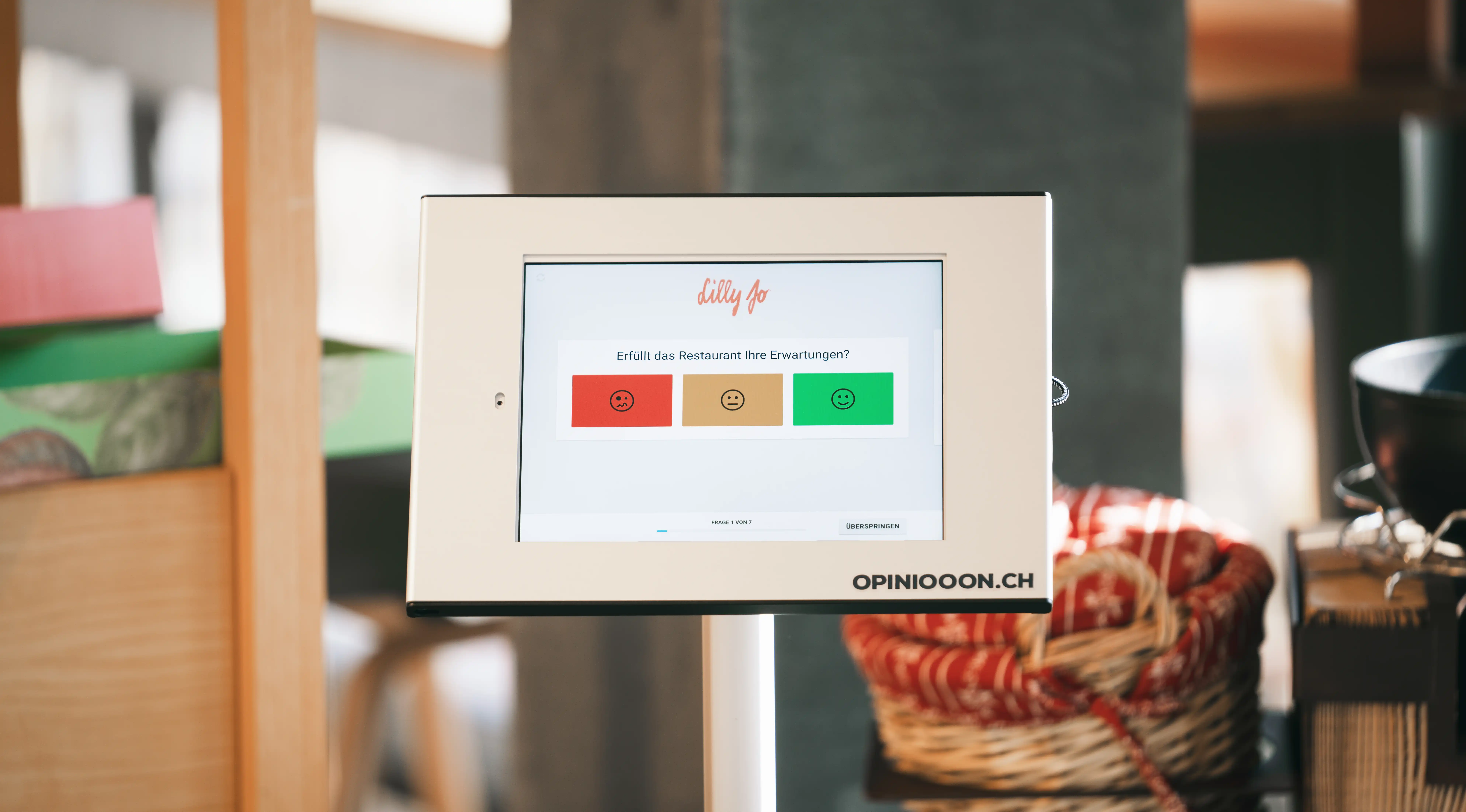 Do you want to increase guest satisfaction?
With our Software solution opiniooon and these tips for increasing the satisfaction of your guests, you're well on your way to building regular customers and succeeding as a restaurant.