Why measuring employee satisfaction is a key quality driver
A good mood in the team makes a big difference in everyday work. I think every leader will agree with this. Maintaining this is important – but not always easy. The shortage of skilled workers is increasingly making management teams in the healthcare industry break out in a cold sweat. Teams are exposed to high levels of pressure due to staff shortages. At the same time, quality requirements are increasing. In this tense environment, proactively measuring employee satisfaction makes sense. Here are 3 important effects that employee satisfaction has on hospitals:
1. Financial cost driver
Dissatisfied employees indirectly incur costs that can easily be underestimated. They are more likely to be absent from work, and for an 8 1⁄2-hour day, an absent day averages CHF 603*. Dissatisfaction is also often a reason for dismissal. High turnover requires additional time, human and financial resources. New employees must be recruited and trained. Job vacancies are in themselves a major challenge, which will become even more acute in view of the shortage of skilled workers and the increasing need for care.
*with a gross wage of 6,000 francs (link to the source)
A missed day incurs costs of over 600 francs.
2. Higher service quality, fewer critical errors
Downtime, a high level of turnover, an uneasy working climate and loss of expertise make it difficult to ensure the quality of work of employees. In particular, the reliability and high quality become increasingly important factors in dealing with the patient. If employee satisfaction is taken seriously, any problems like a lack of calm can be responded to more quickly. This contributes to sustained good employee satisfaction and, at best, can even avoid dismissals.
Long-term satisfied employees deliver better performance.
3. Nachhaltige Rentabilität
Nursing staff pay the greatest attention to the impact of patient satisfaction on financial success, according to a recent Study by Deloitte study carried out by Deloitte. Sufficient good communication and interaction on the part of the nursing staff leads to disproportionately high sales. The following applies:
The more satisfied employees are, the better they can look after patients. The better the care, the more satisfied patients are. Satisfied patients recommend your hospital.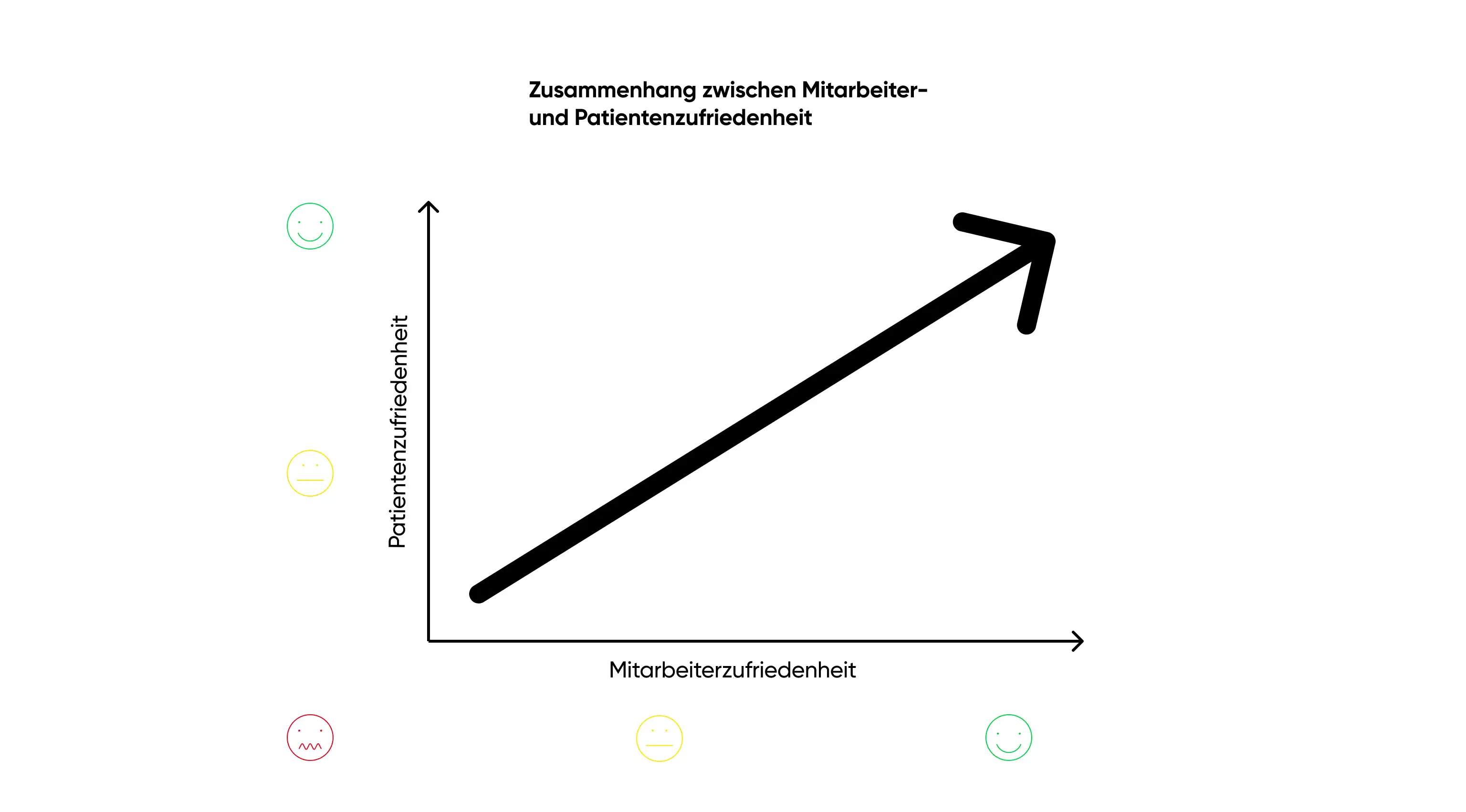 Employee satisfaction at the core of good service quality
Satisfaction amongst nursing staff is an important lever for the overall success of healthcare organisations. This raises the question of how to measure and evaluate them using simple methods. Anonymous, intuitive employee surveys can be used to measure satisfaction and create an additional channel of communication between employees and management. Last but not least, it also shows employees that they are interested in their opinion and well-being.
How to measure employee satisfaction
Employee satisfaction will become more important as a quality indicator in the future. Companies do well to measure this metric. Our product opiniooon means that we offer an easy way to do this. You can conduct anonymous and intuitive employee interviews directly on site. Employees can share their satisfaction by using a feedback tablet. The data is stored live and can be viewed by the HR department in real time and in an evaluated form. This way you are always informed about current employee satisfaction and can react quickly.