22.09.2023
Author: Yves Reitmann
The key role of the customer journey
in the modern business world
In today's demanding business environment, companies are faced with the challenging task of accompanying their customers along their entire customer journey - all the way to the purchase decision and along the entire downstream customer care. This customer journey encompasses a multitude of interactions between customers and businesses across various digital and analogue channels. The seamless integration and design of these channels can make the difference between satisfied customers and lost business.
In this blog post, we highlight the importance of a continuous customer journey across all channels and share some proven strategies to successfully achieve this vision.
The customer journey in transition:
From analogue to digital
The customer journey has changed a lot over the years. It used to be mainly through physical shops, personal recommendations and word of mouth. However, with the inexorable advance of digitalisation and its technological possibilities, the landscape has changed significantly. Customers can now interact with businesses in a variety of ways, be it through social media, websites, emails or mobile apps.
This digital transformation has raised customer expectations and led companies to adapt their strategies. Customers now expect a seamless and consistent experience regardless of the channel through which they interact with a company. This means that companies must not only optimise their digital presence, but also ensure that offline and online channels are connected.
The benefits of an continuous customer journey.
An continuous customer journey offers a number of benefits that are important for both customers and businesses:
Improved customer satisfaction: Customers appreciate consistent and seamless experiences across all channels. This leads to higher customer satisfaction and increases the likelihood of repeat purchases and recommendations.

Stronger customer loyalty: By creating a coherent and engaging customer journey, companies can build a stronger bond with their customers. Today's customers are on many channels, so it's important that the approach works across all channels so that they are always met and feel understood. People who feel well looked after are more likely to build long-term, loyal relationships with a company.

Efficient use of resources: A well-coordinated customer journey enables companies to use their resources more efficiently. Marketing and sales activities can be better targeted, leading to greater effectiveness.

Better data analysis: An continuous customer journey facilitates the collection and analysis of data across all channels. This data provides exciting and relevant insights into customer behaviour. This enables companies to make more informed decisions and continuously adapt and optimise their strategies.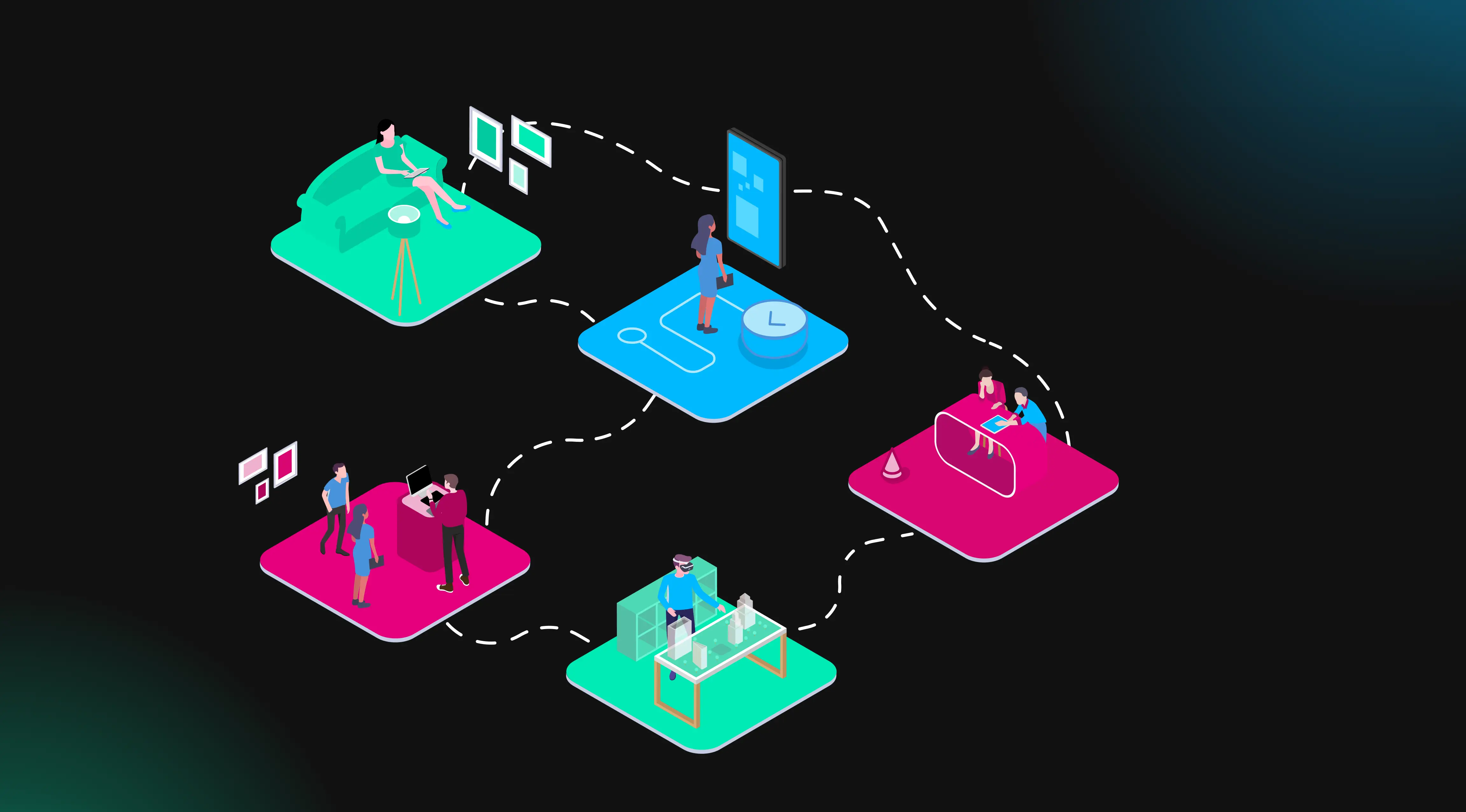 Strategies for implementing a continuous customer journey.
Clear brand message and consistency: Ensure that the brand message and visual identity is communicated consistently across all channels. This helps customers to easily recognise a brand and build trust.
Omnichannel approach: Implementing an omnichannel strategy where all channels are seamlessly linked becomes an indispensable factor in the overall strategy. Customers should be able to start on one platform and continue the process on another without losing information.
Customer-focused user experience: The user experience (UX) plays a crucial role in an end-to-end customer journey. The needs of the user are placed at the centre and based on this, the optimal user experience is created. Their expectations of the solution are specifically addressed through the appropriate user journey and become an optimal experience through a high level of benefit and good user-friendliness. This ensures that the implemented software delivers optimal benefits
Personalisation: We can use the available data to offer personalised experiences on different channels. Customers feel valued when they receive relevant content and offers. The personalised approach also increases the perception of one's own relevance as a customer of a company.
Feedback and analysis: Continuously collecting feedback and analysing existing data helps to identify and improve weaknesses in the customer journey.
Training and attitude: All employees must be properly trained to effectively serve customers across all channels. Friendly and competent customer service contributes significantly to a positive customer journey. The attitude of the employees is also an important factor; every person in the company must live the strategy so that the customers feel it.
Conclusion: The journey to customer satisfaction.
Creating a continous customer journey across digital and analogue channels is an indispensable challenge for businesses today. Customers expect seamless and personalised experiences that are consistent across different touchpoints. Companies that are able to meet these demands will not only increase customer satisfaction, but also build long-term relationships and ultimately strengthen their business success. The art of the continous customer journey requires commitment, innovation and a willingness to continuously adapt to meet the changing needs of customers.
Info about the event:
At our specialist event, we will show how digital touchpoints are becoming the most important pillar of the customer journey, how companies are already using this very successfully today and how you too can optimise your customer journey. We welcome four guest speakers who will give exciting insights in three presentations:
Why digital touchpoints should become the cornerstone of the customer journey.
Christof Zogg, Head of Business Transformation at Swisscom, Jury Chairman of the industry awards "Best of Swiss Web" and "Best of Swiss Apps".
The LOEB Club App - Extension of the digital customer journey along the new loyalty programme at LOEB.
Sven Oesch, Head of Marketing and Lisa Urech, Team Leader Digital at LOEB AG.
Optimisation and personalisation of the customer journey thanks to marketing automation.
Yannick Kunz, Business Owner MarTech at Basellandschaftliche Kantonalbank.
Details of the event:
Thursday, 09.11.2023
Smith and de Luma, Grubenstrasse 27, 8045 Zurich
16:15 Arrival of guests
16:30 Start Event
17:30 Apéro and Networking
Register here for the event!