Progressive Web App
Project link
SwissInTouch PWA
One-stop shop for Swiss abroad
Thanks to SwissInTouch, Swiss citizens living abroad can stay connected to their home country! The app's feed displays the latest news and presents suggestions for exciting events and surveys. Users can access consular services quickly and easily. With the appointment request, for example, an appointment can be requested or communicated directly with the responsible representation in the chat. In addition, the Help Guide provides location-based information on any questions and is continuously updated with current topics.

In summary, the PWA has an impressive digital and personal approach, first-hand information from representatives and answers for individual concerns within a few clicks. The headquarters in Bern and the external network benefit from flexibility and independence in content capture.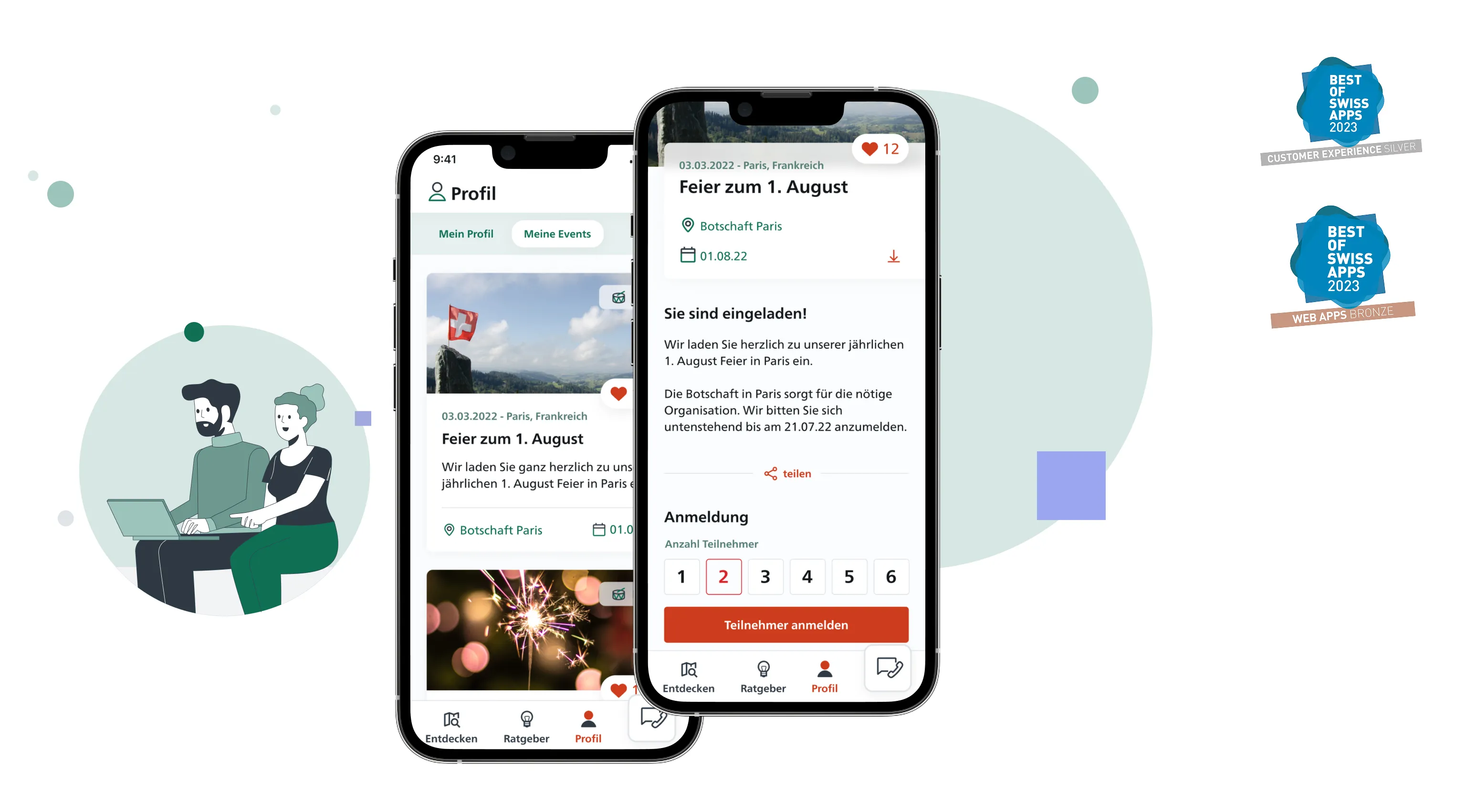 User Experience
Structured and simple menu structure
Solving the problems our users have! With this project, we have sharpened the existing personas in several workshops with various stakeholders. On selected test subjects, various user tests identified what information is needed where. Then the needs of the users were recorded in a value proposition canvas. The user-centric app SwissInTouch serves as a practical help tool for Swiss citizens living abroad. With the guide as one of the main functions, further information is structured according to life situations and packed in an understandable way. In addition, a contact can be started directly using the prominently placed contact navigation point. The complex contents of the app are summarised in a simple menu structure in the best possible way so that users quickly find their way around.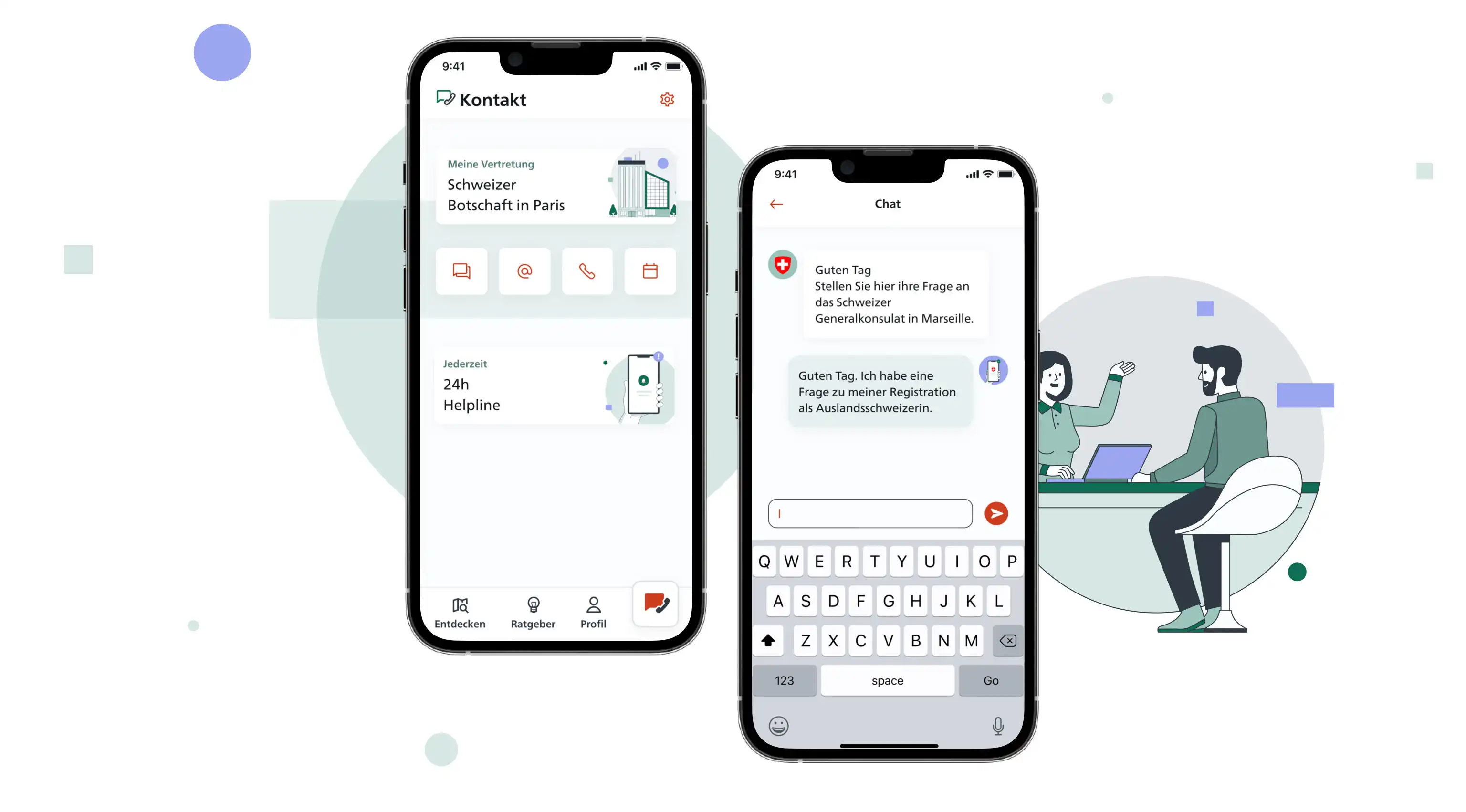 User Interface
Modern Swissness, informative and supportive
The modern app has an impressive focus on the essentials and has a simple, high-quality design. Red as an interaction colour stands out clearly and gives a fresh look with green and violet as supporting colours. Specific illustrations have a supportive effect in user guidance and show, for example, the various life situations. The PWA also works well in modern dark mode and facilitates use in a dimly lit environment.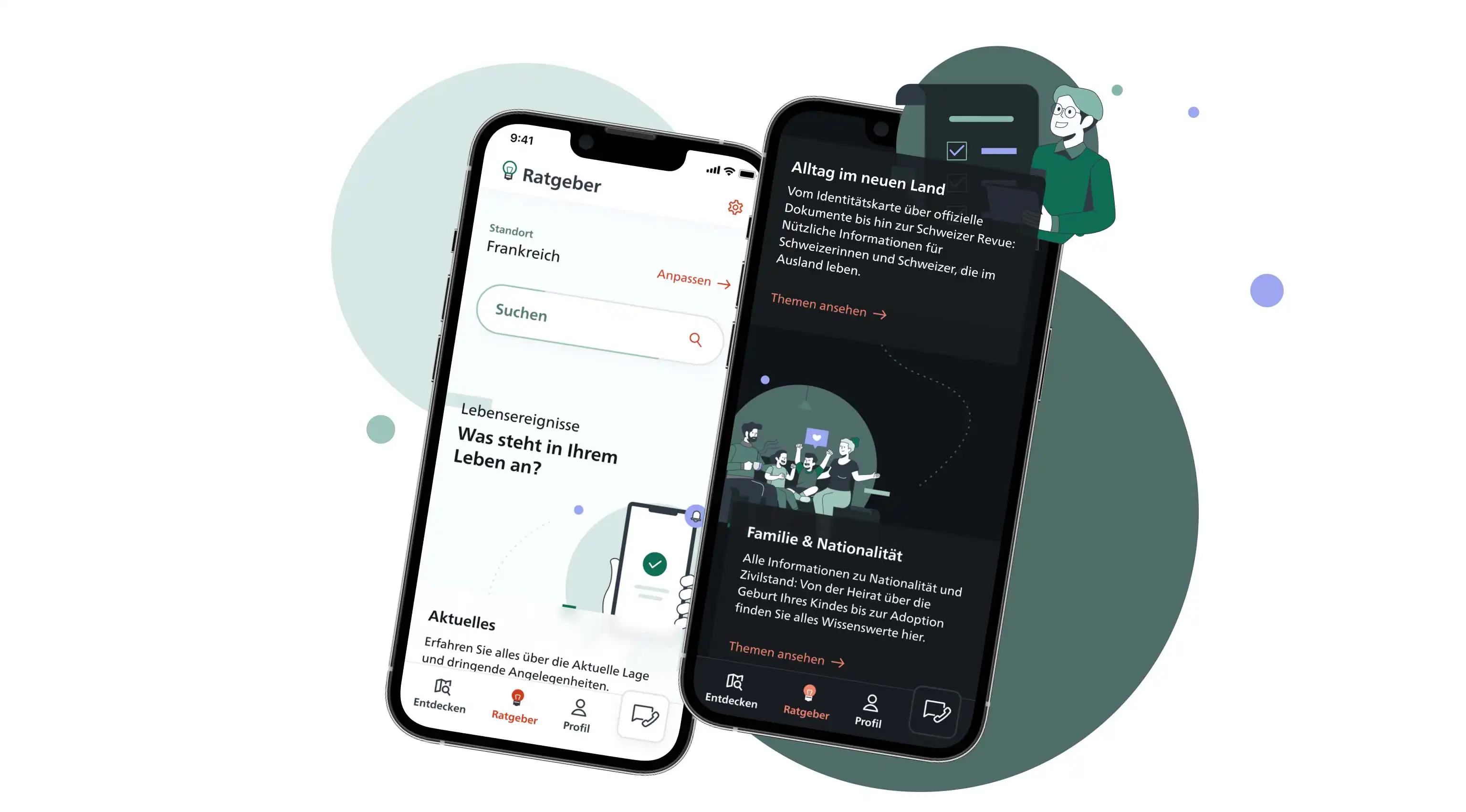 Faster & easier app development
The front end of the SwissInTouch app has been implemented with VueJS as a Progressive Web App (PWA). A PWA gives users around the world easy access to the app as a website without taking a detour through the app store. Thanks to PWA technology, the SwissInTouch Web App becomes virtually a native app on a smartphone, as the website can also be saved as an app directly on the home screen and enables functionalities such as push notifications, geolocation and offline capability.

For the backend services of the app, on the one hand an individual solution of a scaling microservice architecture has been developed and on the other hand standard products such as Magnolia CMS, TALKJS, Elasticsearch have been combined into a total solution. The whole of the application landscape is automated as Infrastructure as Code (IaC).
"SwissInTouch offers everyday support to the Swiss Abroad community and simplifies our content maintenance thanks to independent topic capture."

David Venzin, Projekte & Kunden (EDA)